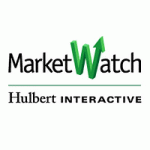 Hulbert Interactive is your online and interactive tool to help you research all the investment newsletters ratings and tracking that have been published in the Hulbert Financial Digest.  The Hulbert Interactive Subscription Discount offer gives you unlimited access to all the investment newsletter reviews and data from the HFD.
Should you wish to subscribe to the MarketWatch product then please take advantage of our special offer on Hulbert Interactive which gives you online access for the year for a low best price of just $99 dollars.
<< Click here for a Free 30 Day Trial of Hulbert Interactive >>
MarketWatch Hulbert Interactive Discount
You will also get a free 30 day trial of the tool so you have ample time to figure out whether or not a Hulbert Interactive Subscription Deal works for you.  For more information on how the tool tracks all the investment newsletter reviews then please read on, or click the banners and links today to get the best priced discounts on this MarketWatch Hulbert offer.

What Do You Get with Hulbert Interactive?
With a subscription offer and Hulbert Interactive Discount Offer you will get 24 hour a day online access to all the newsletter ratings and rankings from the ever-popular Hulbert Financial Digest.  If you want access to how the financial newsletter reviews have performed then the Hulbert Interactive system is the tool for you – here's what you get:
Digitally track consensus recommendations online with Hulbert's Interactive online tool
You can easily search by symbol, title, or industry
Don't fall for investment newsletter scams and bad financial newsletter ratings
Access Mark Hulbert's comprehensive studies of financial newsletters and performance
Plus… you will get a FREE 30-day free trial and discount on Hulbert Interactive
How the Hulbert Interactive Works
With years of experience tracking the performance of investment newsletters, Mark's Hulbert's Financial Digest subscribes anonymously to nearly 200 mutual fund and stock newsletters.  He then follows more than 500 model portfolios and uses expert analysis and tools to monitor each newsletter's buying and selling recommendations.  (Please note that you can also sign-up to the Hulbert Financial Digest too if you want the weekly digest of newsletter reviews).
The Hulbert Interactive database pulls the data from the Hulbert Financial Digest Rankings and then computes them all to show risk-adjusted performance of all the featured stock portfolios of 5, 10, 15, and 20 years.  If you sign-up using our Hulbert Interactive Discount and Deal offer then you will immediately have access to all the new stock newsletters reviews and ratings including new data, updates on portfolios, and the newsletter rankings performance in a real-time data view.  This lets you do your own stock market research 24 hours a day.  If you are keen to know how to get into the stock market then this will go on to be one of the most valuable tools that you could have in your arsenal.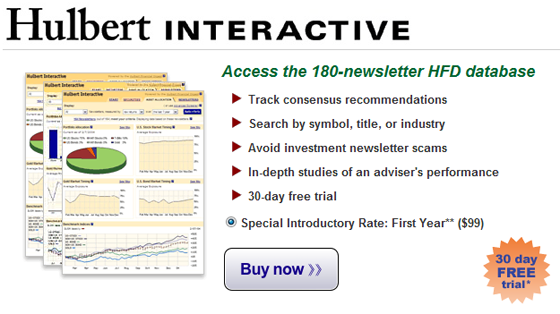 Features of Hulbert Interactive
Subscribe to Hulbert Interactive today and you will benefit from a vast array of functionality designed to help you make the best investment decisions and steering you towards the investment newsletter ratings that matter.  The Hulbert Newsletter Ratings are the most trusted on the planet, and here's how you can get the best of the online tool:
Search Online for Insider Views – 24 hour a day quick online searches of the entire Hulbert Financial Digest Rankings with detailed information, history, and profiles on all featured investment newsletter reviews.  You can search using ticker symbols, financial newsletter name, or by a group of stock market newsletters to see who holds or does not hold a security and why.
Market-Timing Update – access up to date average exposure to stock, gold and bond markets detailed in all of the investment newsletters being rated by the Hulbert Financial Digest.
Custom Queries and Rankings of Investment Newsletters – using Hulbert Interactive you can rank and track stock newsletters over a custom period of time.  So for example, if you want to know which were the best financial newsletters in the gold market from January 2001 to December 2003 then you can do that with ease using the easy to use interface.
Insightful Industry Analysis – you are able to sort all the newsletters you are interested in by the industry and market, giving you the flexibility to quickly filter the top investment newsletters in your chosen field.
Expert Analyst Articles from the Hulbert Financial Digest Team – You can search and examine hundreds of industry articles relating to stocks, shares, and the investor newsletter niche.  Common reads include articles on asset allocation, market timing, and how to use Hulbert Interactive to get the best results possible.
Investment Newsletter Rankings & Profiles – Every single mutual fund and investment stock newsletter has a one-page profile that shows portfolio analysis and a graph to show the performance with the Wilshire 5000 Total Market Index.
Hulbert Interactive Email Alerts – get an email straight from the system as soon as a financial newsletter ranking performs down or up on their ratings on the top stocks they hold as a group.
Hulbert Interactive Review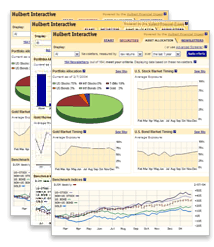 A cheap subscription offer to Hulbert Interactive will give you access to all the ratings and rankings from the Hulbert Financial Digest since the publication was first started by Mark Hulbert back in the 1980s.  The Hulbert Interactive service was launched in 2004 and is one of the best investment products on offer as part of the MarketWatch suite of financial advice products.
It truly is an essential tool for anybody looking to subscribe to any of the financial investment newsletters currently on the market because it rates and tracks the performance based on the advice given in the publications – thus showing you which of the investment newsletters offer the best investment advice and have the best track record when it comes to yielding profitable results.
As you probably know, even the most reputable and best investment newsletters can sometimes give advice that turns out to be too good to be true, with a positive spin on the best results, whilst ignoring the losing advice they have previously handed out.  If you sign-up to Hulbert Interactive you can quickly and easily filter through the non-performers and tell which financial stock newsletters are the ones that you can trust – helping you to purchase the best newsletter to suit you and the results you want.
Hulbert Interactive product will display which newsletters are going after what stocks, what they avoid, and who is holding what stock and why – with a database containing over 500 model portfolios, the Interactive online access is superb – because it uses all the data to show performance which has been risk adjusted over periods of time including 5, 10, 15, and 20 years.
Sign-Up to the Hulbert Financial Digest Too
If you want even more for your money then we would recommend that you also take advantage of signing-up to the actual Hulbert Financial Digest as this contains more in-depth information on all the leading investment newsletters with detailed commentary and analysis.  It goes beyond just the data presented in Hulbert Interactive and is your weekly guide to stock newsletters, financial newsletters, and the best performing investment newsletters currently in the market.  Edited by Mark Hulbert, it is the number one trusted and independent guide that is essential for people wanting to make the most of their investments.